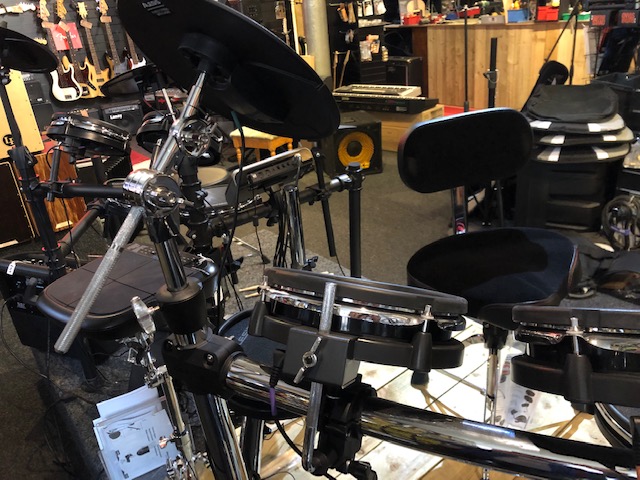 Electronic drum kits have improved hugely over the last few years and many want to take advantage of the convenience and the practicality, especially those who worry about their neighbours!
Havn't thought about aspects such as frame robustness or sound quality? These are important! We've decided to make choosing the right drum kit easier by doing a comparison of four of the electronic drum kits we have on display in our store with a side-by-side feature quality comparison for the elements we believe are important.
All our electronic drums come with a free lesson (worth £25) and 6 month's video shop support including callout if required within the Glasgow area.
Carlsbro CSD100
Alesis Nitro Mesh
Carlsbro CSD400
Alesis Command Mesh
Price
Price
£209
£359
£439
£639
Drumkit size
Small
Medium
Large
Large
Mesh head toms
Χ
✓
✓
✓
Play along with phone/tablet
input
✓
✓
✓
✓
Music exam compatible
Χ
✓
✓
✓
Chrome frame
Χ
Χ
Χ
✓
Frame robustness
5/10
3/10
10/10
8/10
Sound quality of instruments
7/10
7/10
7/10
10/10
Variety of percussion sounds
3/10
6/10
6/10
10/10
Cymbal choke
Χ
✓
✓
✓
Cymbal tone changes with
strike velocity
Χ
Χ
Χ
✓
Real kick pedal
Χ
✓
✓
✓
Double pedal supported
Χ
Χ
✓
✓
Tom/snare response
5/10
7/10
8/10
9/10
Snare size
7″
8″
10″
10″
Module build quality
5/10
8/10
7/10
10/10
Module ease of use
9/10
4/10
7/10
8/10
Module functionality
2/10
8/10
6/10
10/10
Extra tom/cymbal extensible
Χ
✓
✓
✓
Load your own samples
Χ
Χ
Χ
✓
Number of play-along tunes
10
60
20
60
Relevance of play-along tunes
6/10
4/10
9/10
9/10
Summary
Simple, but does what it
does really well!
Smaller then
many kits but the
sounds and mesh
pads are great if
you are careful
with the stability.
Nice basic
teaching mode.
Super-robust
and decent feel
from the pads.
Sounds similar
to Nitro Mesh.
Great for pros
wanting a
practice
kit and kids who
are learning.
Outstanding
in so many ways.
Superb, joyous
sounds, looks great
and has a fantastic
feel from the tom
and snares.