Description
NOTE: The kit is priced for pickup from an address in Rutherglen, Glasgow.  Delivery may be an option, please enquire.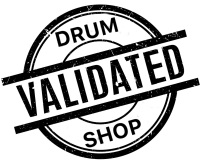 This kit has been inspected and validated by Drum Shop Glasgow for quality and accuracy of description.
This outstanding drum kit from 2005 is made of Scandinavian Birch (single outer ply) and Bubinga (8 inner plys).  The condition is excellent with wood and chrome in outstanding condition with only two very small marks, one on the bass drum rim, and one on a tom. The kit has the classic Tama rich sound and is a joy to play.
The kit comprises 22″ bass drum 5 toms mounted on hardware.  This hardware (a combination of Gretsch, Yamaha and Tama) is available with the kit.
The drum sizes are:
Bass Drum: 22″ x 18″
Toms: 8″ x 7″, 10″ x 8″, 12″ x 9″, 14″ x 8″, 16″ x 13″.
The heads are Evans Clear and show some sign of usage, but are very playable.
There is a full set of hardcases with the kit.
The cymbals and stands shown in the photos are included.
The cymbals are :
Sabian HHX 13″ Evolution Hi-Hats
Sabian HHX 20″ Bounce Ride
Zildjian K 17″ Dark Thin Crash
Zildjian K 15″ Dark Thin Crash
The cymbals are in very good condition with some signs of usage, but no chips or cracks.
The hardware with the cymbals is Yamaha and Pearl.
A drum stool is also included.